Is flaxseed the new wonder food? Preliminary studies show that flaxseed may help fight everything from heart disease, breast cancer and more see below.
Some call it one of the most powerful plant foods on the planet.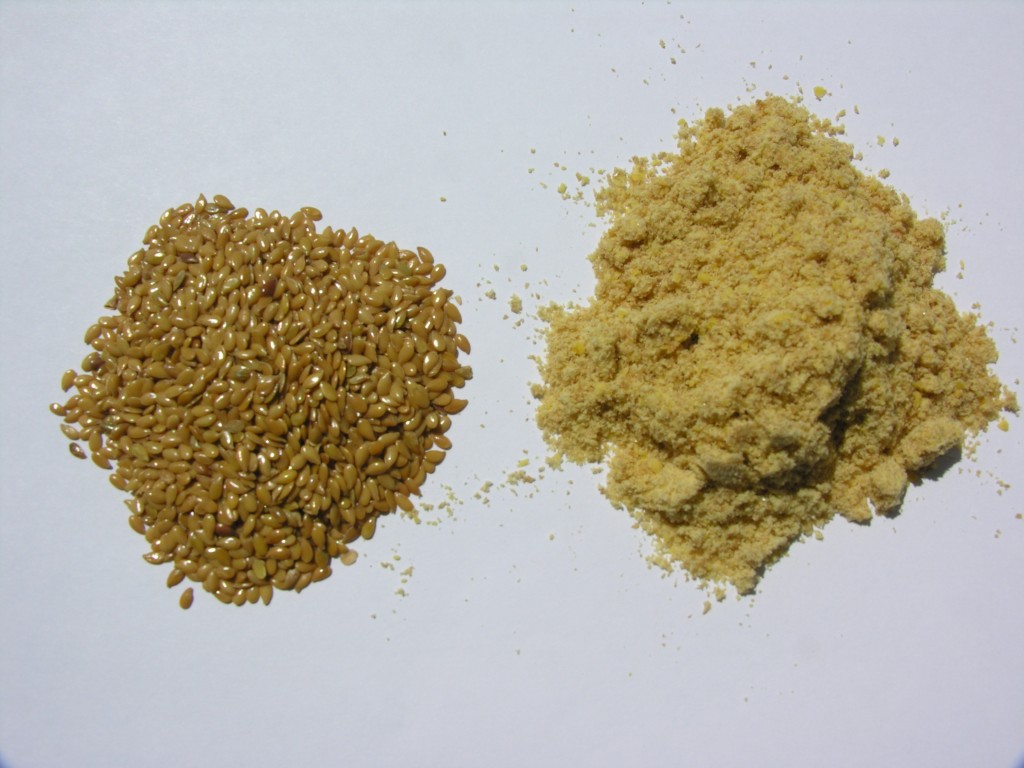 The picture shows one tablespoon of flaxseed before and after ground in a coffee grinder.
There's some evidence it may help reduce your risk, helping to protect you from cardiovascular disease, cancer, stroke, lung disease, prostate cancer, colon cancer, diabetes...
Marriam-websters definition of Flax: Any of genus (Linum of the family linaceae, the flax family) of herbs; especially: a slender erect annual (L.usitatissimum) with blue flowers commonly cultivated for its bast fiber and seeds.
I started using flaxseed in 2003 when I was diagnosed with colitis from the Multiple Sclerosis I'd had since 2001. The first attack, I passed out because the pain was so bad and the second time I had to be picked up from driving truck and taken to the hospital because of the fear of passing out again. I started on flaxseed and have not had an issue with the colitis, stomach or intestinal issues ever since.
My wife had high cholesterol for several years and was told when she's tested next time if it was still high they would put her on medicine. Carol started on flaxseed and at the next test had dropped 50 into the safe zone.
Three main ingredients of flaxseed are: Omega-3 essential fatty acids (1 tablespoon contains 1.8 grams of plant omega 3s), Lignans (with antioxidant qualities), Fiber (soluble and insoluble types).
The plant omega-3s may help with the cardiovascular system by the anti-inflammatory action and normalizing the heartbeat. By the same token I have to wonder if the anti-inflammatory possibilities then would also help me and others with their Multiple Sclerosis since every time we have an exacerbation we can end up on 3 to 5 days of IV steroids to take the inflammation down. ALA and lignans in flaxseed may reduce the inflammation that happens in illnesses like Parkinson's, asthma and I'm hoping Multiple Sclerosis. Either way It's one of those things I do for myself that I feel is good for my MS (despite hard evidence to support that notion). There is however known science that says flaxseed is good for my body in general.
Another benefit of taking flaxseed the way Carol and I take it is we take the actual seeds and grind them in a coffee grinder and mix with grape juice and drink immediately. What happens is that it expands in the belly giving you the full feeling so you tend not to have as many food cravings. If you let the ground flaxseed set in your desired fluid for like 5 minutes it expands and turns to a mud like consistency. Also letting it set more then 30 minutes after grinding allows the flaxseed to start losing it's nutrients. And of course the grape juice is good for me too.
In my opinion grinding flaxseed is the most beneficial, again this is only my opinion. It comes in other forms as an oil, meal, capsule, already ground and maybe others too.
How much to take: the current recommendation is 1-2 tablespoons of ground flaxseed a day suggested by the Flax Council of Canada. I take about 1.5 tablespoons. When starting out just use a little or you will have intestinal discomfort so work your way up to the daily dose you plan to take.
Flax seed can be added to many foods, there are even cookbooks for flaxseed recipes. Freshly ground flaxseeds are great sprinkled over yogurt or your breakfast cereal.
Carol and I buy food grade flaxseed in 50# bags and when it's shipped to us we break it down into 5# zip lock freezer bags putting them in the freezer.
I feel it's all natural, just ground seeds so I don't see how it could hurt me. For more information just Google flaxseed or click on the link and you'll get nearly 7 million sites to do your own research.
Remember there is no magic bullet to perfect health whether it's drugs or healthy food. Whats important is making healthy choices when choosing what to eat and making it a part of your lifestyle, not a temporary diet.
Healthy & Happy
Yoga Chuck