Saturday October 17th I had the pleasure visiting, presenting and walking Stroke Survivors through Gentle Yoga poses at the Deer Creek State Park Conference Center, Mt. Sterling, OH. Sponsored by OhioHealth and the OhioHealth Rehabilitation Hospital.

Retreat & Refresh Stroke Camp  puts on dozens of these camps annually around the country. They limit the number of participants which allows Stroke Survivors and their care givers a chance to be pampered to get the most out of the camp experience. The bullet points below is information about "Retreat & Refresh Stroke Camp" from their website www.strokecamp.org.
Started with one weekend retreat in 2004
Stroke Survivors and Caregivers had a life changing experience
Campers traveled great distances to participate in camp
Non-profit was created to allow expansion in 2007
Expansion allowed Retreat & Refresh Stroke Camp to go "to the people"
Survivors and Caregivers wanted to educate the public about stroke
Fifth Grade Education and Strike Out Stroke™ events were born in 2009
Strike Out Stroke™ expanded to include major and minor league baseball games
MegaBrain™ events with the Stroke Learning Center added to the education experience
Stroke Survivor and Caregiver tone chimes groups formed as a community to entertain and educate the public about stroke and give back to the community
At the close of 2013, a total of 85 camps in 12 states have been held
Camp listings are available here
In 2014, Retreat & Refresh Stroke Camp celebrates its 10th Anniversary
My contact at OhioHealth sent me an email last week with a few pictures of myself and the group I was working with at the time along with the following note. "When you left, countless people came up to me and said that they had tried yoga, but couldn't do and you made yoga relatable to their condition.  That is a priceless ability. Your experience with  neurological compromise escalated your credibility with them." For those who don't know, I was diagnosed with Multiple Sclerosis, a neurological disease, in 2001 which left me disabled for three and half years 10 years ago.
My father had a stroke about three years ago and that's when they also found out he had at least one heart attack. He was and is treated for his stroke and ultimately had a quadruple-bypass for his heart.
I showed him some Yoga poses that he could do with his issues that would help keep him moving and I added more poses slowly until he had a practice that he continues to do regularly on his own. He has told me and others if it wasn't for the Yoga he would not be able to mow his grass, snow-blow and shovel snow for himself. He has to take it easy with whatever he does, but at least he is independent.
Strokes effect everyone differently, so if you or you know someone who has been affected by a Stoke only do Yoga that works for you/them. No Pain, No Pain! My recommendation is to find a Yoga teacher who will work with your limited mobility that you're experiencing. Chances are if the Yoga teacher can't help you with what you have going on they can recommend a teacher for you.
THINK YOU ARE HAVING A STROKE? CALL 9-1-1 IMMEDIATELY!
F.A.S.T. is an easy way to remember the sudden signs of stroke:
Face Drooping – Does one side of the face droop or is it numb? Ask the person to smile. Is the person's smile uneven?
Arm Weakness – Is one arm weak or numb? Ask the person to raise both arms. Does one arm drift downward?
Speech Difficulty – Is speech slurred? Is the person unable to speak or hard to understand? Ask the person to repeat a simple sentence, like "The sky is blue." Is the sentence repeated correctly?
Time to call 9-1-1 – If someone shows any of these symptoms, even if the symptoms go away, call 9-1-1 and get the person to the hospital immediately. Check the time so you'll know when the first symptoms appeared. -American Heart/Stroke Association

Happy & Healthy,
Yoga Chuck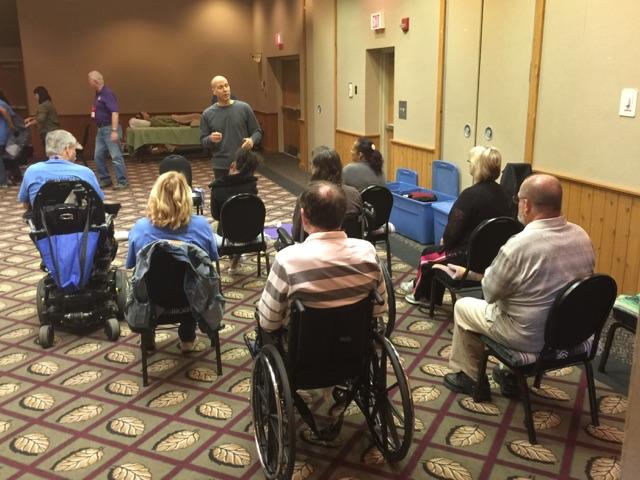 Stroke Camp Schedule
Friday, October 16
2:30-4:00 p.m.            Registration, room assignment, crafts
4:00 p.m.                        Get acquainted drum circle
4:45 p.m.                        Survivor and caregiver get acquainted break out groups
6:00 p.m.                        Dinner-Italy
7:00 p.m.                        Team games
8:30 p.m.            Campfire (weather permitting), Wii, informal discussions, etc…
9:45 p.m.            Brief volunteer meeting
10:00 p.m.                        Camp quiet time
Saturday, October 17
7:00 a.m.                        Wake up
8:00 a.m.                        Breakfast-France
9:00-10:00 a.m.            Survivor and caregiver breakout groups
10:00-12:00 p.m.            Experiential options: pampering (massages, manicures, Mary Kay facials, paraffin dip), fishing, crafts, tai chi video, essential oils video, golf cart rides around the grounds
12:00 p.m.                        Lunch-Mexico
1:00 p.m.                        All camp photo
1:15 p.m.                        Brief volunteer meeting
1:15-4:00 p.m.            Rest/Free time: crafts, fishing, tai chi video, essential oils video, games, Wii, golf carts rides around the grounds, etc…
1:30-3:00 p.m.            Swimming
4:00-4:45 p.m.            Educational session
4:45 p.m.                        Survivor and caregiver break out groups
6:00 p.m.                        Dinner-USA
7:00 p.m.                        Stroke Camp Celebrates the USA
8:30 p.m.                        Free time: relax and chat, bingo, games, resource table, etc…
10:00 p.m.                        Camp quiet time
Sunday, October 18
7:00 a.m.                        Wake up
8:00 a.m.                        Breakfast-England
9:00-9:45 a.m.            Worship service
9:45-10:30 a.m.            Free time, packing, etc…
10:30-11:15 a.m.            All camper competition
11:15-11:45 a.m.            Drum circle-celebration of the weekend
12:00 p.m.                        Lunch-Germany
1:00 p.m.                        Evaluation, photo and address distribution, good-byes
1:30 p.m.                        Safe traveling home